Art at Toot Hill
Scheme of Work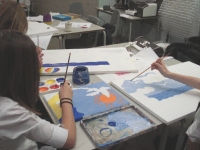 Art at Toot Hill is exciting! You will work on class projects that will teach you the basic skills you need to blossom into a fantastic artist.
You will be given opportunities to experiment with a variety of media, including silk paints, card, pastels, clay, textiles and much more!
You will look at the work of famous and contemporary artists in your class work and your homework projects.
Finished art work is displayed all around the school as well as on this website, so work hard and you will find your work displayed on a wall for everyone to admire.