Learning Lounge
Learning Lounge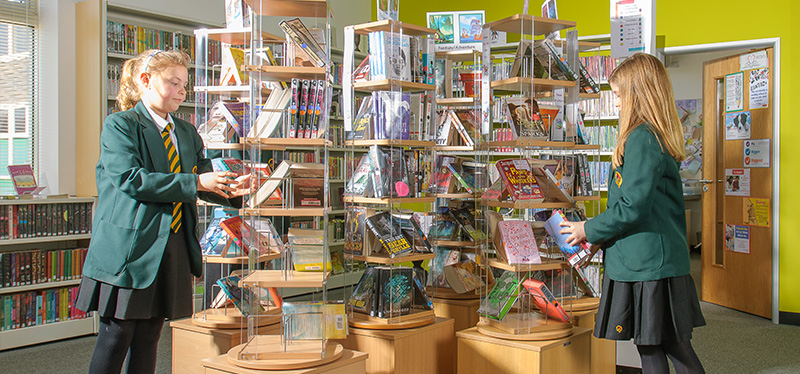 Toot Hill School is committed to promoting literacy across all year groups and it is with this commitment that we now have an exciting and appealing lounge for student study. The Learning Lounge (LL) team comprises of Ms Marris (LL Manager) and Sophie Jones (LL Assistant). We are also supported by an enthusiastic team of Student Librarians from all year groups who work in the Learning Lounge at breakfast club, break and lunch times. Intense Student Librarian Training is offered to the keener individuals during the Spring/Summer Term.
The Learning Lounge has a central location in school which provides a range of multi-media resources available for students during the school day and at lunchtime. Facilities include multifarious books, both Fiction and Non-Fiction, along with two dedicated PC's for searching all of the LL resources (Eclipse) and the area has Wi-Fi access too.
The LL is open to staff and students from 8.15am until registration for 'Breakfast Club', first morning break (10.15-10.30am), first lunch time (12.00-12.40) every day for Year 7 and 8. Each Year 7 Tutor Group is also scheduled to have a registration in the LL every 4 weeks, offering further opportunity to benefit from this excellent facility. Due to timetable lesson commitments, upper school break and lunchtime opening times do vary; opening times are displayed on the window of the LL. Also, 'Homework Club' is currently offered on a Thursday 3.30 to 4.30pm, however, this may alter to Wednesday in the near future.
The Learning Lounge has forged strong links with the English department culminating in the promotion of literacy and the use of the area. We provide timetabled LL/English lessons for all KS3 students with reading as a primary goal. In addition we offer a series of induction sessions during the Autumn term for the new Year 7 students and a refresher session for Year 8 students.
We are always keen to foster students' interest in books by running regular competitions, incentives and promotions. The LL section of the school website is updated regularly with our current competitions and reading incentives. Our book displays change frequently to promote the latest in new fiction and non-fiction titles, combining all of this and a warm welcome from the Learning Lounge Team make the area a vibrant and welcoming place to be.
October 2018
| M | T | W | T | F | WE |
| --- | --- | --- | --- | --- | --- |
| 1 | 2 | 3 | 4 | 5 | 6 |
| 8 | 9 | 10 | 11 | 12 | 13 |
| 15 | 16 | 17 | 18 | 19 | 20 |
| 22 | 23 | 24 | 25 | 26 | 27 |
| 29 | 30 | 31 | | | |