Arts Award
Arts Award
Still I Rise Review
By Pari Keshavji Year10

National Gallery Review
By Amelie Nottage
The national gallery is a very famous gallery in London that I had the pleasure of visiting as part as a trip to London. It houses famous paintings such as Sunflowers by Vincent Van Gogh, The Forest at Fontainbleau by Henri Matisse and Portrait of Bibi La Puree by Pablo Picasso and other incredible paintings from famous artists. Seeing this artwork was surprisingly impactful and it was an amazing experience to see these paintings that you learn about in school in person. I think personally it can be a very inspiring experience to go and see these great works of art. It is simply breathtaking. The building itself seems very overwhelming and intimidating , taking pride place in Trafalgar Square.
Individual painting reviews:
The Hay Wain by John Constable
I thought this painting was very realistic and very beautiful. I love how peaceful the clouds look in the sky and the use of tone within them is really stunning.
Portrait of Bibi La Puree by Pablo Picasso
I like this painting because its colourful and really unique. The lines seem very free and sketchy. The artist has used a range of mark making to create this piece.
The Forest At Fontainbleau by Henri Matisse
I think this piece is very abstract and beautifully colourful and imaginative. Its vibrant colors let it stand out from the rest and make it strangely appealing to look at.
Critical Analysis of the Yorkshire Sculpture Park Artwork
As I had a tour of the Sculpture Park I was open to a variety of art forms that I saw. There were paintings, sculptures of course, ceramics and photography. They also had various materials, some were natural and some man-made and there were some that were a mixture of both.
There was a range of artwork from different artists. I felt that with each piece of artwork there were different varieties and levels of formal elements shown in the artwork.
The artwork also showed the mood and had a story or past for why it was created. I was fascinated about the high level of different material used.
I noticed that there wasn't many historical plaques giving information and I felt that the purpose was to try and get the viewers to interpret their own explanation from what they saw.
One of the main artworks I found very curious and this was actually my favourite was a sculpture of a statue of a figure. I wasn't sure what the figure was supposed to be of but I had a feeling it was similar to a goddess, possibly with a religious basis. The colours for it were very bright, vibrant and bold which I think was used to make it have a variety of tone. The variety of colour I thought was a mix of the colour wheel used to make tone and to be bold to stand out. I wasn't sure of the gender of the sculpture but I feel it was a woman and is a good showing of woman's empowerment and that men aren't necessarily always the religious leaders.
Additionally in the exhibition I found the photographs of the jungle very modern. I found it interesting how it shows the jungle yet the frames and how it was presented had a modern twist to it. As it was in black and white you could see the areas of shading and the colour change of where the nature, the shadows and the sun was shining in angles onto the leaves.
I felt that through this experience each piece of work was outstanding and had strengths and weaknesses in all kinds of areas. Because of this it proves how the exhibition was not just based on one theme one type of work so at the Yorkshire Sculpture Park you could see all different types of work. I have been to other exhibitions and the galleries were based on a certain theme or artist. It also had 80% of the work presented outside which was a new experience for me. As most of it was outside you could tell it was an eco-friendly environment where they showed they care about the nature. As we were being shown around there was a river, a bridge, willow tree and to top it off I even saw some animals.
Review of art exhibition at Nottingham Contemporary
By Jasmine Spencer Year 10.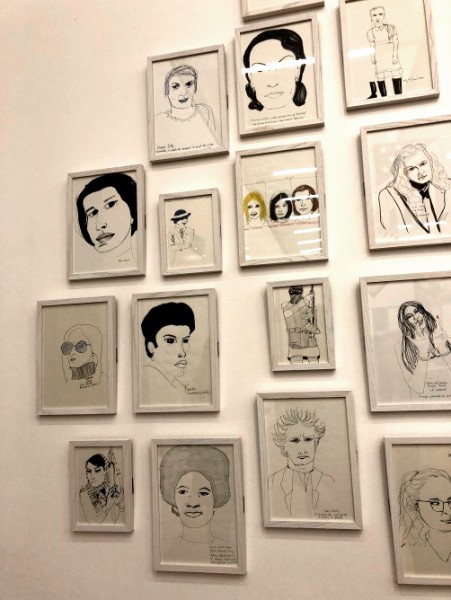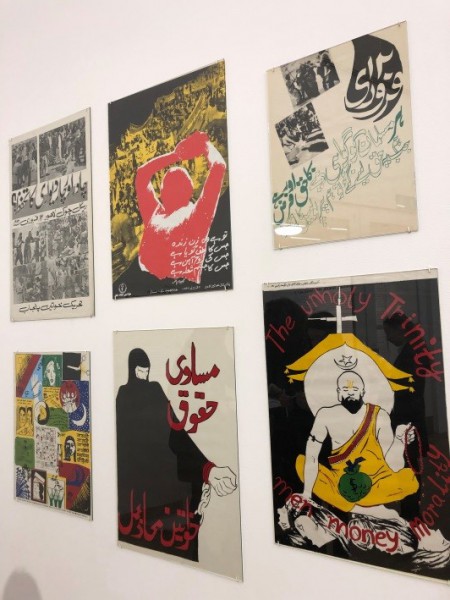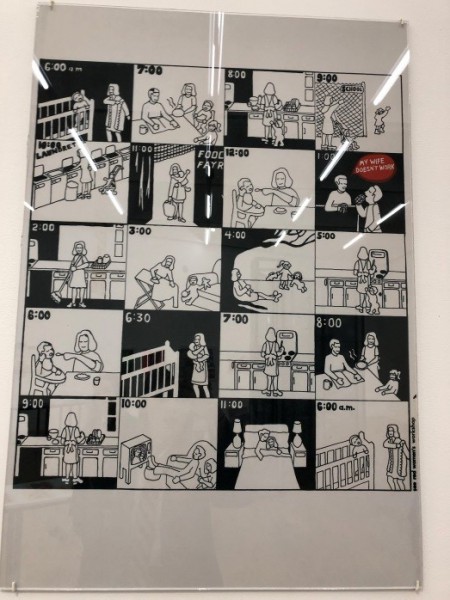 The art exhibition 'still I rise' at the Nottingham contemporary is an exhibition exploring the history of resistance moments and alternative forms of living in an ideally world where things like gender and sexuality don't dictate your life. I attended the exhibition with other arts award students on the 16th if January and we all loved it. There were many forms of art there such as contemporary and abstract drawings and paintings. I have never seen anything like it as it made me think about the difficulties in the past but also how there are also some discriminations and conflict in today's society. I really liked the art exhibition as I think it was really interesting and informative but also beautiful and captivating at the same time. The way the exhibition was laid out in different rooms and each room had a sub-theme which made the whole experience better because the exhibition made a lot more sense and you never got bored as everywhere you looked there was always something new and exciting to look at. I went on the trip with a girl called Jessie and she described the exhibition as extraordinary and that she really enjoyed it. She also said it opened her mind to the difficulties in today's society. This shows that this exhibition is not just really interesting but it is also really educational as it teaches you about the problems in the world so hopefully they won't occur in future generations and this is what I learnt from the exhibitions. One improvement I would give is to have more interacting art work such as things you could touch or little quizzes to test the observer and make the experience more exciting, but saying this I would definitely recommend it to others as it was very interesting and inspiring.
Part C Arts Award Visit to Nottingham Contemporary Art Gallery
By Yasmin Poyser Year 8
On January 16th 2019, I visited the Nottingham Contemporary Art Gallery as Part C to gain my Level 2 (Silver) Arts Award qualification. I have visited this gallery once before in completion of my Level 1 qualification (Bronze). The exhibition was called: 'Still I Rise' from the words of Maya Angelou. The point of this particular exhibition, was to highlight sexism, feminism, exploring how women have fought for their rights throughout history.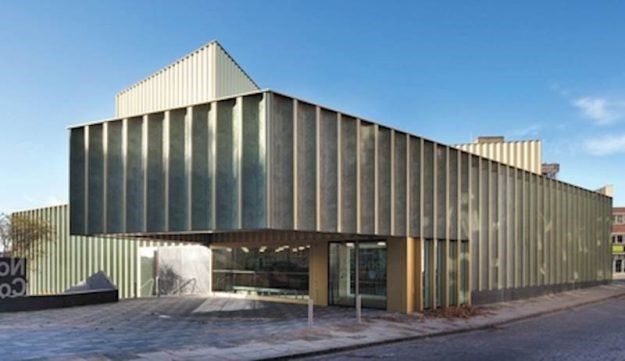 The Nottingham Contemporary Art Gallery
The building in itself is very unique to any other place I've ever been to. The atmosphere is very calm and welcoming.
Altogether, there are 4 galleries, each with a different name on the subject, from which we went in 3.
A Rumour
The first gallery we went in was called 'A Rumour'. This part of the gallery was themed upon sexism especially. A lot of the artwork consisted of poster, or banner pieces, featuring things like the suffragettes and a piece about war. There were also some pieces based on stereotypes, even about men, about how men and women are 'supposed to act'. Some of this was the send picture down below, of how boys and girls feel like they should live their lives and how they should act like. This made me feel like sad to think that society, makes us think this way, and people aren't always free to be who they like, and have they rights they deserve- hence the suffragettes (3rd photo). All the artwork links to the title of the of the gallery, by suggesting that what people say about stereotypes is just a rumour. All the artwork was really detailed, and held a powerful message from which I felt inspired by. All the drawings were immaculate, and the posters bright and bold, which is what I like about it because I love bright colours, and it helps to outline and give a sense of urgency to change what people think. There wasn't really anything I didn't like about gallery 1! Overall, I thought that this part of the gallery put out a strong message for feminism, women, and their rights.

A Spell
Inside the second gallery, there were a lot of unusual things. It was magical; like a spell! For example, there was this piece here, floating around in a glass tank. At first, I wasn't sure exactly what it was, but I found it very interesting. As you looked closer, it was very detailed, with stitches and embroidery making it extremely distinctive to anything else I have ever seen before. From the description, it suggests it represents something like a virus, or an illness. It is made from silk, silicone, beads, lace, and aquarium. In my opinion, it reminds me of a jellyfish, stinging its pray, as it floats silently around, which could also link to be something like a virus or an illness, this why I like it. One thing I don't like about it though, is that it is complicated to understand what it actually is, and what it actually means.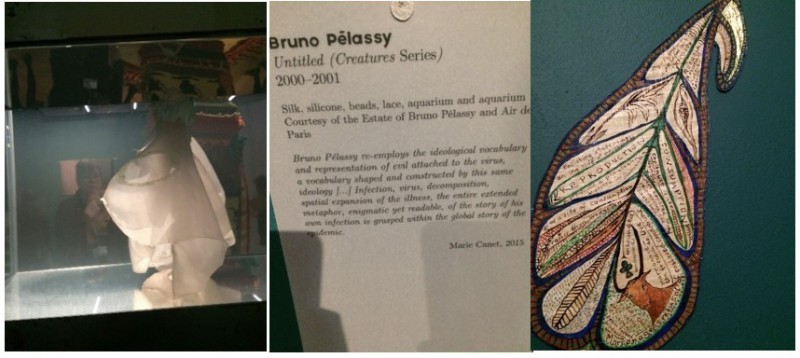 There was also this piece on the far right. The artwork consisted of what I would presume is a leaf, with a lot of colours and detail, and to me, also handwriting. The piece was filled with words to do with feminism, women, and included the word 'household' which I am presuming was talking about women in the stereotyped household. There were also a few other pieces similar to this and by the same artist, and they were extremely, detailed, with intricate drawing and jumbled calligraphy. They were very interesting to look at and I felt very inspired by them in a way that I had never seen anything like that before. Overall, in this part of the gallery, I felt that the art was very enchanted and fantasy like, a whole different world to what I saw in the first gallery.
A Dance
This gallery over all of them was my favourite. This art by Judy Chicago, based her art openly on females. She used coloured flares, and women in full body paint to outline feminism. The bright colours draw attention and brighten the atmosphere, which looks like it is in a desert. It really outlines that women deserve to be seen, and this art shows them in a different light, clear to see. This is one of my favourite artists in the gallery, as her art stands apart from all the others, by using colour to draw your eye to the work.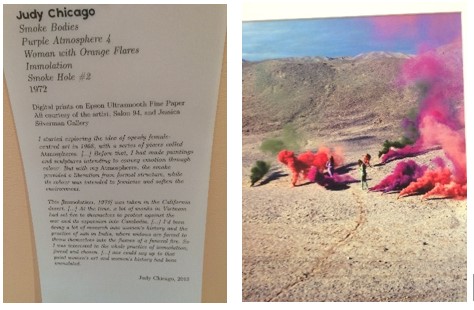 These are another few pieces of art I was interested in, in the 3rd gallery. It is by 'Ana Mendeita'. This interests me because to me, it looks like the mark of a human. From my point of view, this symbolizes our mark on the earth when we pass, that we will have made our mark on the earth, and we never really leave- like how feminism leaves a mark in our society. I also think that this artwork symbolizes something much darker as well, like something from a crime scene. This art is a work of photography. I really like it because it's a very isolated piece. One thing that I don't like about it though, is that it is very dull and bleak. Although this might be a point the artist is trying to put across, I feel like some more earthy colour could give a more realistic effect.

Overall review of my Still I Rise Gallery Exhibition Experience
This experience, was really, really eye-opening for me. I learned way more than I thought I would about feminism. I have learnt that the message that women put across about this worldwide issue is one of the strongest ever established. It made me feel really empowered as a girl, to think that one day we will have rights the same as men- one day. All the artwork I saw was absolutely amazing, and all made with care and meaning, that shone out to me. All the textures and the colours, details and words together, was phenomenal to look at. My favourite part of it was that I discovered that every artist is completely different in their own way, and every piece had a story behind it. I hope I can apply some of these technical skills to my own future work, to improve it and make it my own. I would definitely recommend coming here to anyone, there's something here for everything.
Trip to THE YORKSHIRE SCULPTURE PARK - BY Rosie- Alice Doyle

Journey to Yorkshire Sculpture Park - bY Emily Stutt
On October 24th, 2018 I took a journey to the Yorkshire Sculpture Park with the other Toot Hill Arts AwHard students. Visiting the Sculpture gallery was part of the silver award and was an incredible experience.
The day was spent exploring the park. The sculpture park itself was completely outdoors bar the underground gallery. The sculptures themselves were integrated into the natural and man-made surroundings and complimented the contours and shapes that we associate with the outdoors.
It was extremely beneficial for me to visit the YSP as it's a form of art I am very interested in looking at for the future. The most inspirational piece for me was 'Tree in the wood' by Guiseppe Penone. Amazingly this piece consisted of one pine tree, which had been bisected and place horizontally, split in the middle. It was an optical illusion in the sense that looking at it at one direction it gave the illusion it was one long tree. What I was most impressed by was how Penone used manipulation to hollow out the inside of the tree to add texture as well as keeping all the bark and branches on for added texture.
When I got home I was really exhausted yet inspired because of creative insight I got of the world of sculpture.
Art Ambassador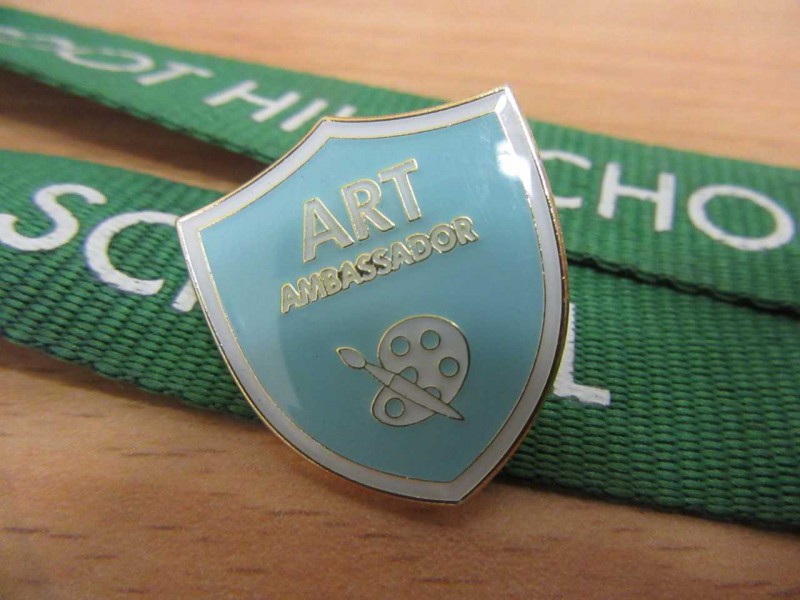 Applications
Art Ambassador Applications are now closed! We have a number of talented and enthusiastic students from KS3 and KS4 who will be representing the Art Department for 2017-2018. Please keep an eye out for the finalised list of names which will be published soon.
September 2021
| M | T | W | T | F | WE |
| --- | --- | --- | --- | --- | --- |
| | | 1 | 2 | 3 | 4 |
| 6 | 7 | 8 | 9 | 10 | 11 |
| 13 | 14 | 15 | 16 | 17 | 18 |
| 20 | 21 | 22 | 23 | 24 | 25 |
| 27 | 28 | 29 | 30 | | |