Latest News
Latest News
Toot Hill Swimming Success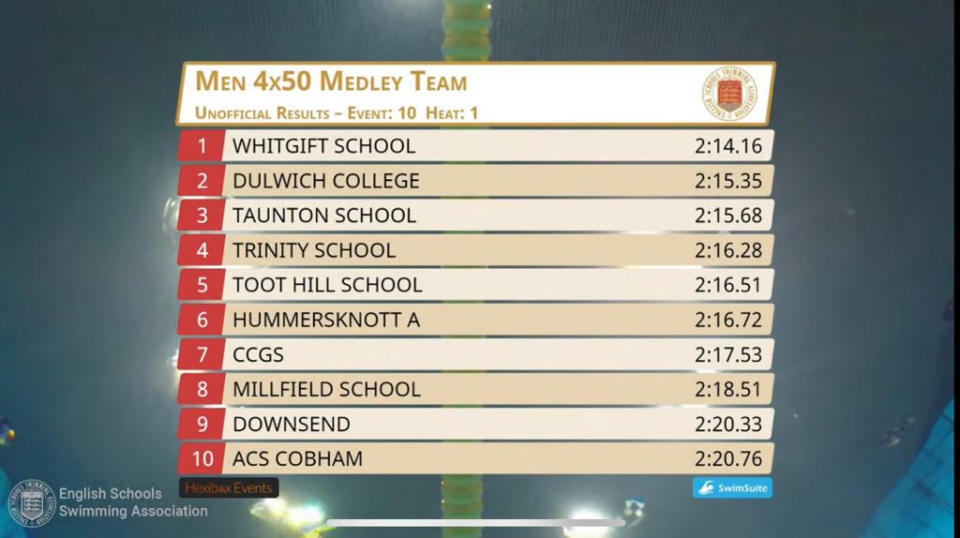 Four swimmers from Toot Hill ensured the school was one of the top five in the country at the prestigious National Finals in London.
Year seven students Oscar Ferrar and William Newham, along with year eight pupils Lewis Hare and Ben Roberts, competed in the English Schools' Swimming Association (ESSA) event at the London Aquatic Centre on Saturday,
The world-class venue at the Olympic Park hosted swimming at the London 2012 Olympic Games.
Toot Hill - part of the Nova Education Trust - won heat two of the 4x50m medley, with Lewis (backstroke), Ben (breaststroke), Oscar (butterfly) and William (freestyle) clocking their personal record time of 2:14:76.
A extremely competitive final saw the boys finish fifth in a time of 2:16:51.
Amelia Hall, Head of the PE Department at Toot Hill, said: "This was the first time Toot Hill have competed in the National Finals and we are very proud of the boys' achievements.
"They were extremely nervous to compete in such a big event at the Aquatics Centre where many of their swimming role models competed in the London 2012 Olympic Games.
"Finishing fifth in the country is a fantastic achievement. As a school, we could not be more pleased with their performance considering the high level of competition."
It was the 63rd year of the event which sees hundreds of schools participate in qualifying in a bid to reach the national final.
The four pupils swam in the same pool as some of the sport's greatest-ever swimmers who participated at London 2012, such as Michael Phelps, Ryan Lochte, Missy Franklin and Nottingham's two-time gold medallist Rebecca Adlington.
Dr Chris Eardley, Head of School at Toot Hill, said: "I am incredibly proud of these four students. What an achievement to race at such a prestigious event and venue and do so well.
"They are extremely dedicated sportsmen who still find the energy to be exceptional students in school. They truly exemplify our school ethos of 'Work Hard, Be Kind, Take Pride'.
"I look forward to supporting them in future school swimming competitions and would like to say a huge thank you and congratulations to them on behalf of everyone in our school."
August 2022
| M | T | W | T | F | WE |
| --- | --- | --- | --- | --- | --- |
| 1 | 2 | 3 | 4 | 5 | 6 |
| 8 | 9 | 10 | 11 | 12 | 13 |
| 15 | 16 | 17 | 18 | 19 | 20 |
| 22 | 23 | 24 | 25 | 26 | 27 |
| 29 | 30 | 31 | | | |