Latest News
Latest News
New November Display - 2021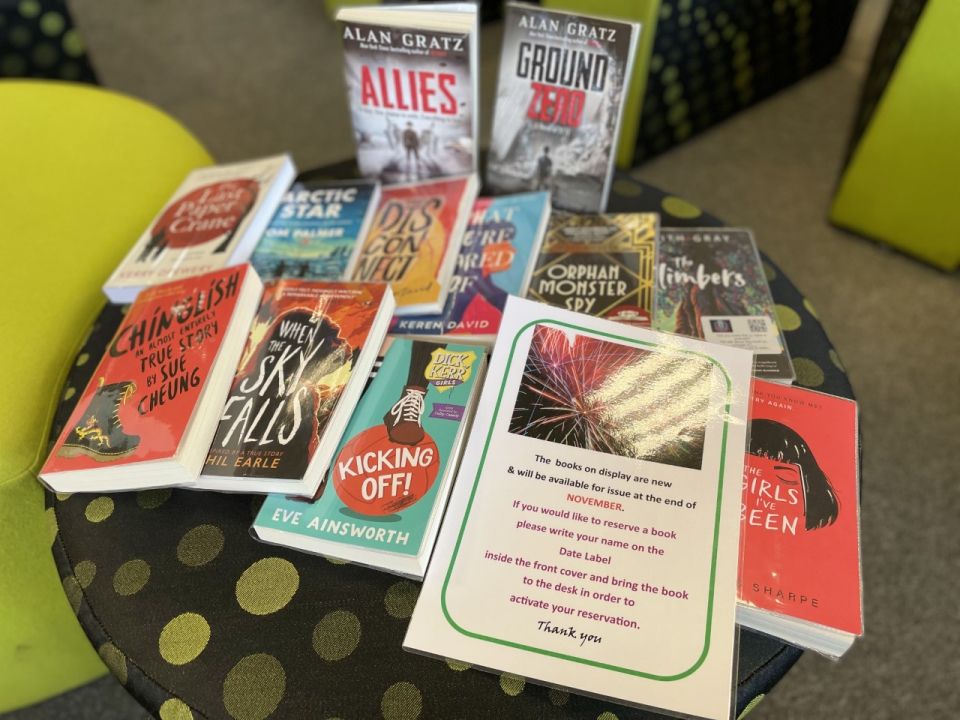 Welcome back to school! We have loads of new books available for all year groups to enjoy.
All new solo books including: 'Allies', 'The Last Paper Crane', 'Kicking Off', 'My So Called Bollywood Life' and 'Orphan Monster Spy'.
We've got more sequels to your favourite series: 'Spinster Club: What's a Girl Gotta Do? (BK 3)' and 'Wolf Brother: Skin Taker (BK 8)'.
Great Fiction Quick Reads: 'The Last Hawk', 'The Climbers', 'Arctic Star' and 'The Disconnect'.
Brand new Graphic Novels & Manga: 'One Punch Man (VOL 2)', 'Giant Days (VOL 1)' and 'Assassination Classroom (VOL 6)'.
Educational Non-Fiction: 'Gender Queer', 'F2: Ultimate Footballer' and 'Gone to the Woods'.
Don't forget you can see a list of all our new display books on Eclipse. Simply log on and check out the Reading List tab!
Where will November's display take you?
Spotlight Books:
Ground Zero by Alan Gratz
September 11, 2001, New York City: Brandon is visiting his dad at work, on the 107th floor of the World Trade Center. Out of nowhere, an airplane slams into the tower, creating a fiery nightmare of terror and confusion. And Brandon is in the middle of it all. Can he survive -- and escape?
The Girls I've Been by Tess Sharpe
Nora O'Malley's been a lot of girls. As the daughter of a con-artist who targets criminal men, she grew up as her mother's protégé. But when her mom fell for the mark instead of conning him, Nora pulled the ultimate con: escape.

For five years Nora's been playing at normal. But she needs to dust off the skills she ditched because she has three problems:
#1: Her ex walked in on her with her girlfriend. Even though they're all friends, Wes didn't know about her and Iris.
#2: The morning after Wes finds them kissing, they all have to meet to deposit the fundraiser money they raised at the bank. It's a nightmare that goes from awkward to deadly, because:
#3: Right after they enter the bank, two guys start robbing it.
The bank robbers may be trouble, but Nora's something else entirely. They have no idea who they're really holding hostage . . .
The Last Paper Crane by Kerry Drewery
A Japanese teenager, Mizuki, is worried about her grandfather who is clearly desperately upset about something. He says that he has never got over something that happened in his past and gently Mizuki persuades him to tell her what it is.

We are taken to 1945, Hiroshima, and Mizuki's grandfather as a teenage boy chatting at home with his friend Hiro. Moments later the horrific nuclear bomb is dropped on Hiroshima. What follows is a searing account of the blinding flash, the harrowing search for family and the devastation both human and physical. There is also the very moving and human story as the two teenage boys with great bravery search for and find Keiko, Hiro's five-year-old sister.
August 2022
| M | T | W | T | F | WE |
| --- | --- | --- | --- | --- | --- |
| 1 | 2 | 3 | 4 | 5 | 6 |
| 8 | 9 | 10 | 11 | 12 | 13 |
| 15 | 16 | 17 | 18 | 19 | 20 |
| 22 | 23 | 24 | 25 | 26 | 27 |
| 29 | 30 | 31 | | | |