Latest News
Latest News
Are you a Toot Hill Reader?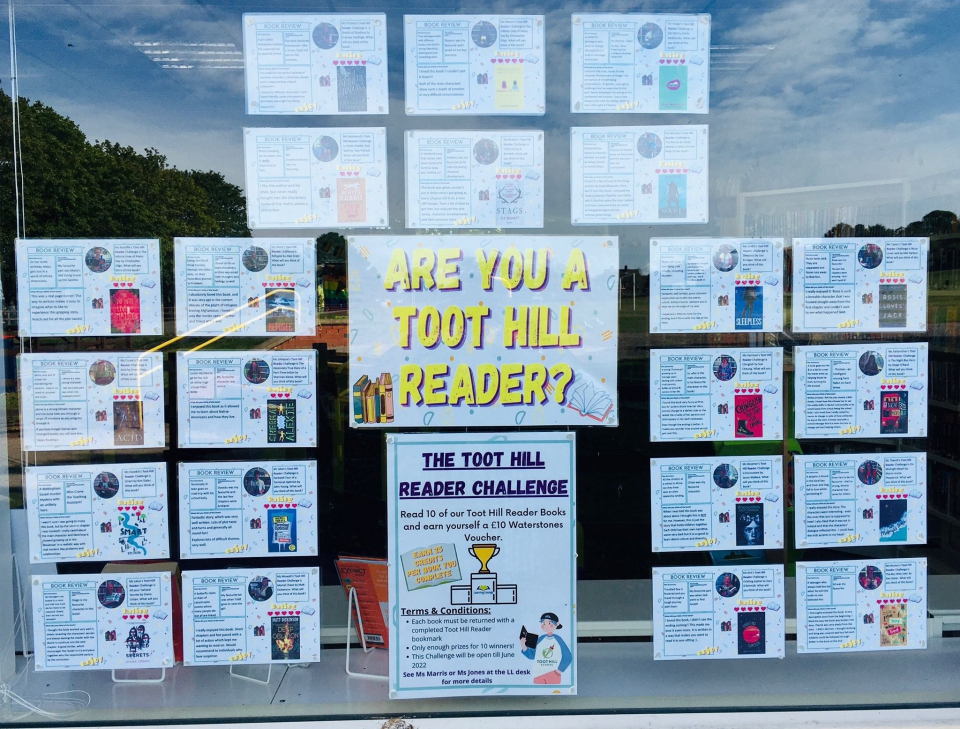 The Learning Lounge has launched its new reading challenge! Over the summer staff members dipped into our YA shelves and selected brilliant books to read over the summer. They rated the books and wrote reviews on them. These books now make up a list of Toot Hill must read books. Now for the challenge:
For every Toot Hill Reader Book you read you will receive 25 credit points.
The first 10 students to read 10 of the Toot Hill Reader books will be rewarded with a £10 Waterstones voucher.
The challenge will run until the end of June 2022.
Open to all year groups.
Want to get involved? Find out which books are in the challenge by viewing the LL window. Select one of the books and bring it to the LL desk. Tell us you want to begin the challenge and we will make sure to give you a Toot Hill Reader bookmark. Students must fill in a timeline on their companion bookmark so we can make sure they have read the book.
Below are just some of the books in the challenge:
Bunker Diary by Kevin Brooks
It was still dark when I woke up this morning.
As soon as my eyes opened I knew where I was.

A low-ceilinged rectangular building made entirely of whitewashed concrete.
There are six little rooms along the main corridor.

There are no windows. No doors. The lift is the only way in or out.
What's he going to do to me?
What am I going to do?

If I'm right, the lift will come down in five minutes.
It did. Only this time it wasn't empty . . .
Refugee By Alan Gratz
JOSEF is a Jewish boy living in 1930s Nazi Germany. With the threat of concentration camps looming, he and his family board a ship bound for the other side of the world . . .

ISABEL is a Cuban girl in 1994. With riots and unrest plaguing her country, she and her family set out on a raft, hoping to find safety in America . . .

MAHMOUD is a Syrian boy in 2015. With his homeland torn apart by violence and destruction, he and his family begin a long trek toward Europe . . . All three kids go on harrowing journeys in search of refuge.
Eat Dirt by Goldy Moldovsky
He's not asking for much. All Gregor Maravilla wants to do is feed all of the starving children on the planet. So when he's selected to join Camp Save the World, a special summer program for teenage activists from all over the country to champion their cause, Gregor's sure he's on the path to becoming Someone Great.

But then a prize is announced. It will be awarded at the end of summer to the activist who shows the most promise in their campaign. Gregor's sure he has the prize in the bag, especially compared to some of the other campers' campaigns. Like Eat Dirt, a preposterous campaign started by Ashley Woodstone, a famous young actor who most likely doesn't even deserve to be at the camp. Everywhere Gregor goes, Ashley seems to show up ready to ruin things. Plus, the prize has an unforeseen side effect, turning a quiet summer into cutthroat warfare where campers stop focusing on their own campaigns and start sabotaging everyone else's.
August 2022
| M | T | W | T | F | WE |
| --- | --- | --- | --- | --- | --- |
| 1 | 2 | 3 | 4 | 5 | 6 |
| 8 | 9 | 10 | 11 | 12 | 13 |
| 15 | 16 | 17 | 18 | 19 | 20 |
| 22 | 23 | 24 | 25 | 26 | 27 |
| 29 | 30 | 31 | | | |