Latest News
Latest News
New September Display - 2021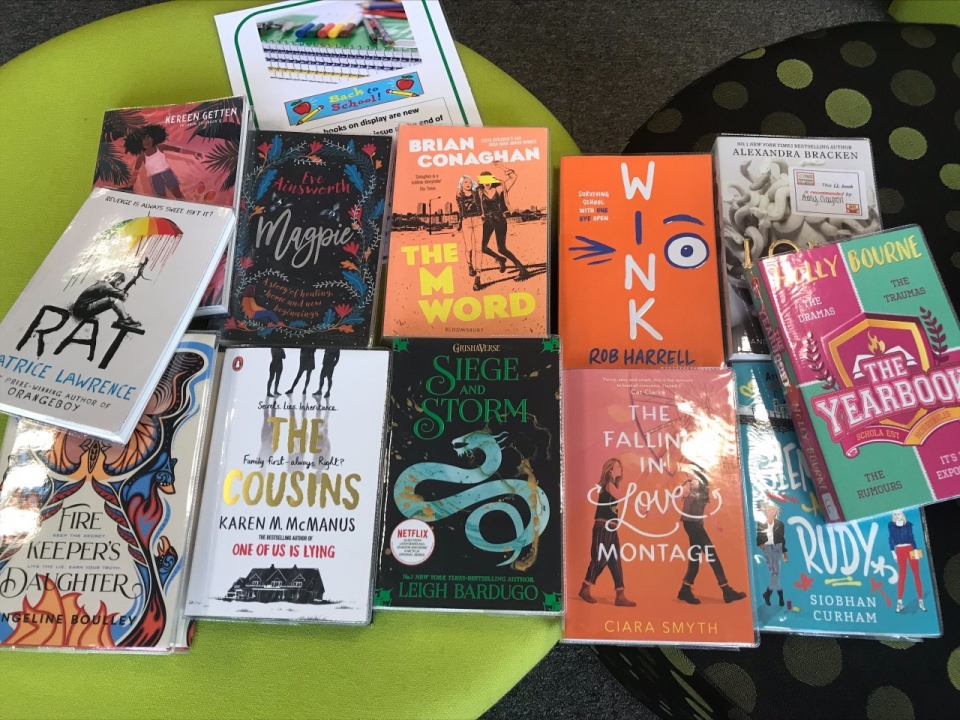 Welcome back to school! We have loads of new books available for all year groups to enjoy.
All new solo books including: 'Lore', 'Firekeeper's Daughter', 'The Falling in Love Montage', Clementine and Rudy', 'The Dragon and her boy' and 'The Cousins'.
We've got more sequels to your favourite series: 'The Hand on the Wall (BK 3)', 'Skulduggery Pleasant - Seasons of War (BK 13)', and 'Siege and Storm (BK 2).
Great Fiction Quick Reads: 'Ultimate Football Heroes: Kane', 'Rock Bottom - A Midsummer Nightmare', and 'Tindims and the Ten Green Bottles'.
Brand new Graphic Novels & Manga: 'The Recruit', 'Adventure Zone', 'Pokemon VOL 3', 'Attack on Titan VOL 3' and 'One Piece VOL 2'
Educational Non-Fiction: 'Hallucigenia'
Don't forget you can see a list of all our new display books on Eclipse. Simply log on and check out the Reading List tab!
Where will September's display take you?
Spotlight Books:
Wink by Rob Harrell
Ross Maloy just wants to be a normal seventh grader. He doesn't want to lose his hair, or wear a weird hat, or deal with the disappearing friends who don't know what to say to the cancer kid. But with his recent diagnosis of a rare eye cancer, blending in is off the table.
When Life Gives you Mangoes by Kereen Getten
Nothing much happens in Sycamore, the small village where Clara lives - at least, that's how it seems. She loves eating ripe mangoes fallen from trees, running outside in the rainy season and escaping to her secret hideout with her best friend Gaynah. There's only one problem: she can't remember anything about the previous summer.

When a quirky girl called Rudy arrives from England, everything starts to change. Gaynah stops acting like a best friend, while Rudy and Clara roam across the island and uncover an old family secret. As the summer reaches its peak and the island storms begin, Clara's memory starts to return and she must finally face the truth of what happened last year.
The Cousins by Karen M. McManus
The Storys are the envy of their neighbours: owners of the largest property on their East Coast island, they are rich, beautiful, and close. Until it all falls apart. The four children are suddenly dropped by their mother with a single sentence:

You know what you did. They never hear from her again.

Years later, when 18-year-old cousins Aubrey, Milly and Jonah Story receive a mysterious invitation to spend the summer at their grandmother's resort, they have no choice but to follow their curiosity and meet the woman who's been such an enigma their entire lives. This entire family is built on secrets, right? It's the Story legacy. This summer, the teenagers are determined to discover the truth at the heart of their family. But some secrets are better left alone.
August 2022
| M | T | W | T | F | WE |
| --- | --- | --- | --- | --- | --- |
| 1 | 2 | 3 | 4 | 5 | 6 |
| 8 | 9 | 10 | 11 | 12 | 13 |
| 15 | 16 | 17 | 18 | 19 | 20 |
| 22 | 23 | 24 | 25 | 26 | 27 |
| 29 | 30 | 31 | | | |