Latest News
Latest News
New June Display - 2021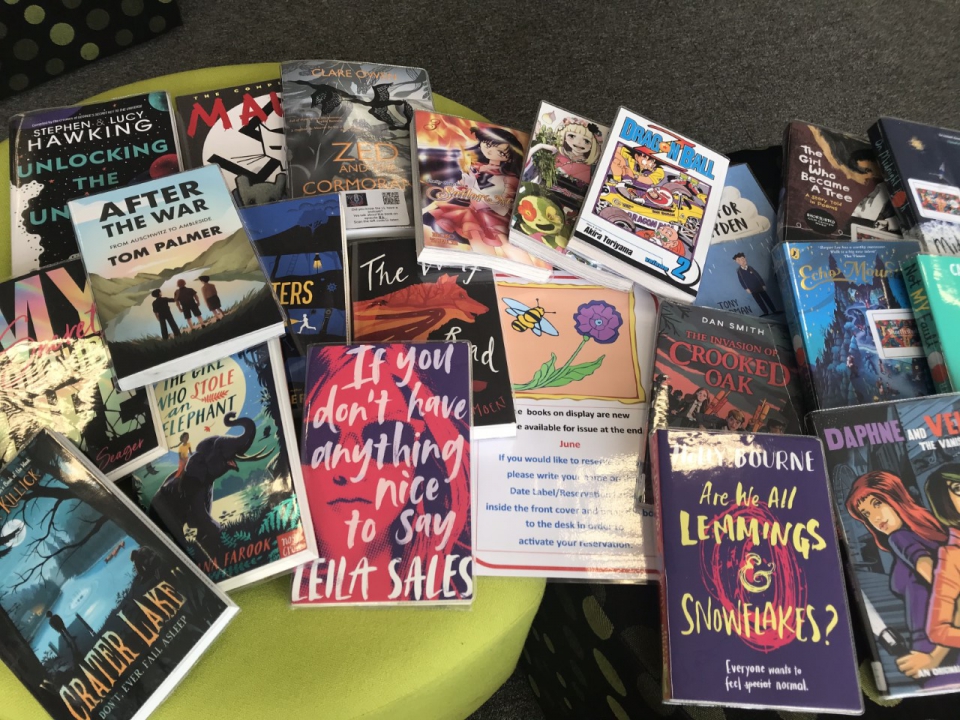 We have loads of new books available for all year groups to enjoy.
All new solo books including: 'The Girl Who Became a Tree', 'The Wolf Road', ' On Midnight Beach', 'The Truth and Lies of Ella Black', 'If you don't have anything nice to say'
Great Fiction Quick Reads: 'Ultimate Football Heroes: Zlatan', 'Ultimate Football Heroes: Mane', 'A Bad Day for Jayden', 'Invasion of Crooked Oak', 'After the War', 'Final Girl',
Brand new Graphic Novels & Manga: 'Sailor Moon (VOL 3)', 'MAUS', 'Promised Neverland (VOL 1)', 'Lumberjanes', 'Black Clover (VOL 1)'.
Educational Non-Fiction: 'Unlocking the Universe' and 'Dunkleosteus'
Don't forget you can see a list of all our new display books on Eclipse. Simply log on and check out the Reading List tab!
Where will Junes display take you?
Spotlight Books:
'If you don't have anything nice to say' by Leila Sales
We all want to be seen. We all want to be heard. But what happens when we're seen and heard saying or doing the wrong things? When Winter Halperin – former spelling bee champion, aspiring writer, and daughter of a parenting expert –gets caught saying the wrong thing online, her life explodes. All across the world, people know what she's done, and none of them will forgive her. With her friends gone, her future plans cut short, and her identity in shambles, Winter is just trying to pick up the pieces without hurting anyone else. She knows she messed up, but does that mean it's okay for people to send her hate mail and death threats? Did she deserve to lose all that she's lost? And is "I'm sorry" ever good enough?
''Unlocking the Universe' by Stephen & Lucy Hawking
In their series of novels, George's Secret Key to the Universe, Lucy and Stephen Hawking imagined what great adventures one boy might have if he travelled through space. But the books were based on real-life facts - and together Lucy and Stephen collected an incredible wealth of information about everything from life on Mars to the secrets of black holes. For the first time this non-fiction content has been collected into one astonishing volume, with brand new content for 2020, including facts about genetics, conspiracy theories and climate change. Beautifully illustrated and absolutely bursting with amazing facts and figures, this is the perfect guide to everything you've ever wanted to know about our world and beyond.
'On Midnight Beach' by Marie-Louise Fitzpatrick
I kept clear of Dog Cullen. Donegal, 1976 When a dolphin takes up residence in Carrig Cove, Emer and her best friend, Fee, feel like they have an instant connection with it. Then Dog Cullen and his sidekick, Kit, turn up, and the four friends begin to sneak out at midnight to go down to the beach, daring each other to swim closer and closer to the creature . . . But the fame and fortune the dolphin brings to their small village builds resentment amongst their neighbours across the bay, and the summer days get longer and hotter . . . There is something wild and intense in the air. Love feels fierce, old hatreds fester, and suddenly everything feels worth fighting for.
October 2021
| M | T | W | T | F | WE |
| --- | --- | --- | --- | --- | --- |
| | | | | 1 | 2 |
| 4 | 5 | 6 | 7 | 8 | 9 |
| 11 | 12 | 13 | 14 | 15 | 16 |
| 18 | 19 | 20 | 21 | 22 | 23 |
| 25 | 26 | 27 | 28 | 29 | 30 |