Latest News
Latest News
British Science Week: 4 Day STEM Challenge - Final Task!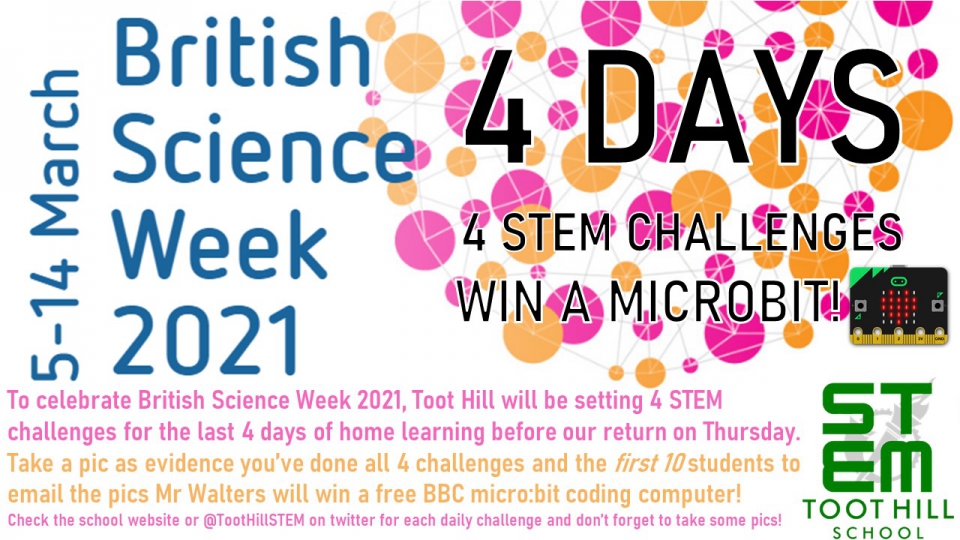 The fourth & final British Science Week challenge is to check out the incredible STEM project that is, the International Space Station!
Check out the links to
1.) Explore inside the Internationa Space Station using Google Earth https://earth.google.com/web/data=CiQSIhIgN2Y3ZTA1ZTg2Y2E1MTFlNzk5YzI1YjJmNTFhNjA3NTI
and
2.) Look up when the space station will pass overhead so you can see it with your own eyes! https://spotthestation.nasa.gov/sightings/view.cfm?country=United_Kingdom&region=England&city=Nottingham#.YEiAEGj7Q2w
Don't forget to send photos or screenshots to rwalters@toothillschool.co.uk fo a chance to win a micro:bit. You don't need to have done all 4 tasks to be in with a chance so get in touch and show us what you've been up to!
Well done to everyone who has engaged with British Science Week so far!
August 2022
| M | T | W | T | F | WE |
| --- | --- | --- | --- | --- | --- |
| 1 | 2 | 3 | 4 | 5 | 6 |
| 8 | 9 | 10 | 11 | 12 | 13 |
| 15 | 16 | 17 | 18 | 19 | 20 |
| 22 | 23 | 24 | 25 | 26 | 27 |
| 29 | 30 | 31 | | | |