Latest News
Latest News
Celebrate National Storytelling Week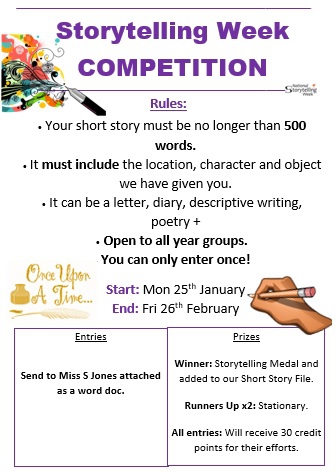 National Storytelling week starts from the 30th of January to the 6th of February. To celebrate this amazing week the Learning Lounge is hosting its very own short story competition. This competition will run from the 25th of January to the 26th of February. To enter students must write a maximum 500-word story and the story must be based around the character, location and object the Learning Lounge has selected. All this information will be delivered by tutors/English teachers later on this week or you can get a head start and download the creative writing worksheet from the LL homepage or visit our Wakelet!
If you want more details about the competition or want to celebrate National Storytelling week even more by listening to author interviews then check out the Learning Lounge's Wakelet.
Everyone who participates in the competition will receive 30 credit points and all entries must be emailed to Miss S Jones.
April 2021
| M | T | W | T | F | WE |
| --- | --- | --- | --- | --- | --- |
| | | | 1 | 2 | 3 |
| 5 | 6 | 7 | 8 | 9 | 10 |
| 12 | 13 | 14 | 15 | 16 | 17 |
| 19 | 20 | 21 | 22 | 23 | 24 |
| 26 | 27 | 28 | 29 | 30 | |