Latest News
Latest News
Author Interview: Jess Butterworth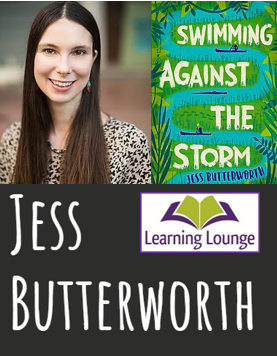 At the beginning of this academic year, we gifted all our Year 7 students with a copy of 'Swimming Against the Storm' by Jess Butterworth. This summer term, Jess Butterworth was meant to be visiting our students to talk to them about the book. Unfortunately, that wasn't able to happen. However, Jess kindly partook an interview with us for our students and hopefully, we will see her next academic year.
We asked Jess the following questions:
What came first the characters or the plot?
What research did you do and were the people friendly?
How did you find out about the Loop Garou myth?
Is it important for you to promote other cultures when writing?
What advice would you give to young writers?
How did you get published?
Which authors inspire you?
What are you reading right now?
Chat to us about your most recent project, 'Where the Wilderness lives'.
Check out the interview here
For more Jess Butterworth news visit her website
October 2020
| M | T | W | T | F | WE |
| --- | --- | --- | --- | --- | --- |
| | | | 1 | 2 | 3 |
| 5 | 6 | 7 | 8 | 9 | 10 |
| 12 | 13 | 14 | 15 | 16 | 17 |
| 19 | 20 | 21 | 22 | 23 | 24 |
| 26 | 27 | 28 | 29 | 30 | 31 |