Latest News
Latest News
Author Visit: Simon James Green - 4th of February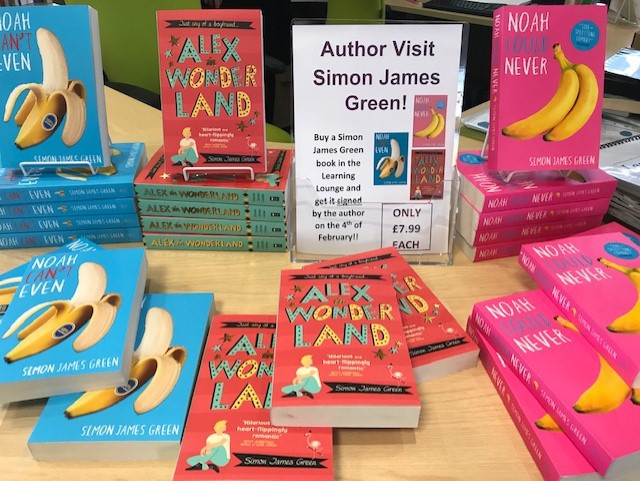 Simon James Green will be visiting the Learning Lounge on the 4th of February. He will be hosting a 'create a character' workshop. This workshop will have some theatrical elements, so if you love drama make sure you a secure a place by signing up at the Learning Lounge desk - open to all years. The Learning Lounge are also selling copies of Simon's books, Alex in Wonderland, Noah Can't Even and Noah Could Never for £7.99. If you buy a book from us we will keep it safe and make sure it gets signed for you by Simon on the day!
Simon will also be available during KS3 lunchtime to answer your questions. Simon James Green used to work in theatre as a screen writer. He now writes LGBTQ+ teen fiction.
Alex in Wonderland by Simon James Green
In the town of Newsands, painfully shy Alex is abandoned by his two best friends for the summer. But he unexpectedly lands a part-time job at Wonderland, a run-down amusement arcade on the seafront, where he gets to know the other teen misfits who work there. Alex starts to come out of his shell, and even starts to develop feelings for co-worker Ben ... who, as Alex's bad luck would have it, has a girlfriend.

Then as debtors close in on Wonderland and mysterious, threatening notes start to appear, Alex and his new friends take it on themselves to save their declining employer. But, like everything in Wonderland, nothing is quite what it seems...
September 2020
| M | T | W | T | F | WE |
| --- | --- | --- | --- | --- | --- |
| | 1 | 2 | 3 | 4 | 5 |
| 7 | 8 | 9 | 10 | 11 | 12 |
| 14 | 15 | 16 | 17 | 18 | 19 |
| 21 | 22 | 23 | 24 | 25 | 26 |
| 28 | 29 | 30 | | | |