Latest News
Latest News
New January Display - 2020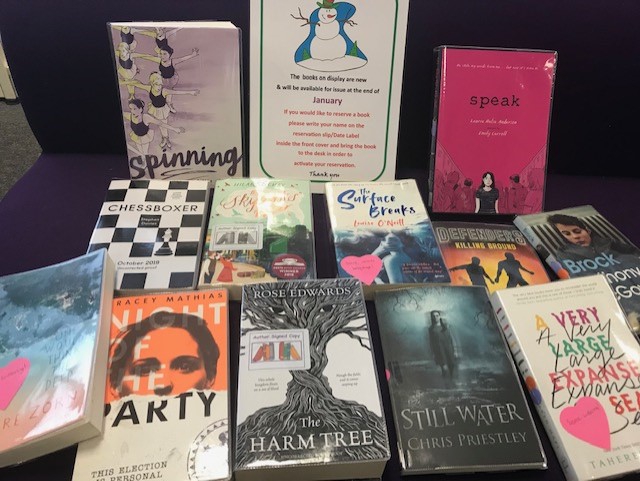 Why not make your New Years resolution to read more? With brand new books every month The Learning Lounge will help you achieve your goals.
All new solo books including 'Chessboxer', 'Night of the Party' , 'The Harm Tree', 'A Very large Expanse of Sea', 'Skylarks' War' +
Books that follow on from your favourite series, introducing: 'Warrior Cats' , 'Talon: Solider' and 'Ruby Redfort'.
Great Fiction Quick Reads; 'Brock', 'Still Water', 'Coutinho' and 'Defenders'
Edgy new senior-fiction such as 'Entangled' and 'The Surface Breaks'
Brand new Graphic Novels & Manga: 'Dr Stone Vol 1', 'Full Metal Alchemist Vol 10-12', 'Speak', 'Anya's Ghost', 'An Inspector Calls' and 'Spinning'
Learn more with our new non-fiction: 'Mindfulness on the Go'.
Where will January's book display take you?
Spotlight Books:
Pages and Co By Anna James
Since her mother's disappearance, eleven-year-old Tilly has found comfort in stories at Pages & Co., her grandparents' bookshop. But when her favourite characters, Anne of Green Gables and Alice from Wonderland, appear in the shop, Tilly's adventures become very real. Not only can she follow Anne and Alice into their thrilling worlds, she discovers she can bookwander into any story she chooses.

Tilly's new ability could even help her solve the mystery of what happened to her mother all those years ago. But danger may be lurking on the very next page…
Skylarks' War by Hilary McKay
Clarry and her older brother Peter live for their summers in Cornwall, staying with their grandparents and running free with their charismatic cousin, Rupert. But normal life resumes each September – boarding school for Peter and Rupert, and a boring life for Clarry at home with her absent father, as the shadow of a terrible war looms ever closer.

When Rupert goes off to fight at the front, Clarry feels their skylark summers are finally slipping away from them. Can their family survive this fearful war?
The Harm Tree by Rose Edwards

Torny and Ebba are friends. Sent away by their families, they work together and watch out for each other. Too young to remember the war that tore apart the kingdom, Torny dreams of the glorious warriors of old, while Ebba misses her family, despite the darkness she left behind.

But when a man is murdered on the street and Torny finds herself in possession of a dangerous message, the two friends must tread separate paths. These will lead them through fear, through grief, to the source of their own power and to the gates of death itself.

As Torny and Ebba are used as tools for the opposing factions of the war, a deep power is ignited in them both. Can they uncover their own strength to finally heal the wounds of a nation?
September 2020
| M | T | W | T | F | WE |
| --- | --- | --- | --- | --- | --- |
| | 1 | 2 | 3 | 4 | 5 |
| 7 | 8 | 9 | 10 | 11 | 12 |
| 14 | 15 | 16 | 17 | 18 | 19 |
| 21 | 22 | 23 | 24 | 25 | 26 |
| 28 | 29 | 30 | | | |