Latest News
Latest News
Alexandra Sheppard Visits The Learning Lounge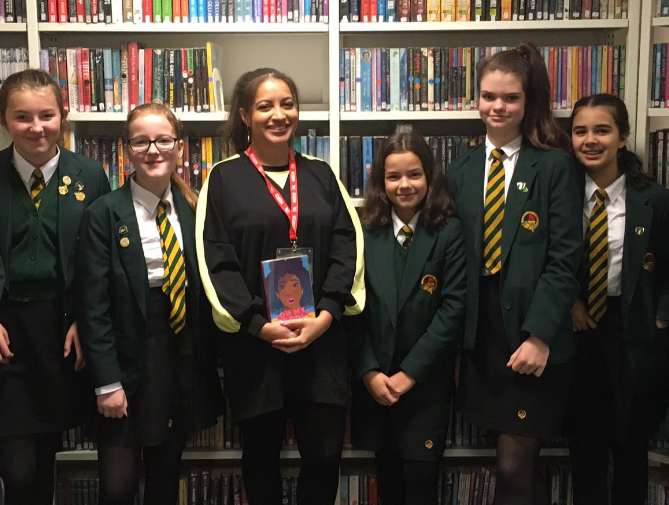 On Thursday the 14th of November Toot Hill's Learning Lounge were lucky enough to welcome Alexandra Sheppard through their doors. Alexandra signed books and judged the winners of the Big Draw Competition. Alexandra Sheppard is the author of 'Oh My Gods' which is a contemporary teen book involving the Greek Gods.
Alexandra ran a modern myth workshop where she spoke to the students about Greek Gods, her pathway into writing and then set them off on a writing challenge. The students spent time creating their own modern God. We had the God of Fluidity, the God of Chocolate, the God of Celebration and more! The students than read out small excepts from their first chapters.
If you missed Alexandra's visit you can borrow her book from the Learning Lounge or listen to our podcast Lounging With Books -> https://www.podomatic.com/podcasts/loungingwithbooks/episodes/2019-11-21T01_08_41-08_00
Oh My Gods by Alexandra Sheppard
ZLife as a half-mortal teenager should be epic.
But, for Helen Thomas, it's tragic.

She's just moved in with her dorky dad and self-absorbed older siblings - who happen to be the ancient Greek gods, living incognito in London!

Between keeping her family's true identities secret, trying to impress her new friends, and meeting an actually cute boy, Helen's stress levels are higher than Mount Olympus.

She needs to rein in her chaotic family before they blow their cover AND her chances at a half-normal social life.

Or is Helen fated for an embarrassment of mythical proportions?
September 2020
| M | T | W | T | F | WE |
| --- | --- | --- | --- | --- | --- |
| | 1 | 2 | 3 | 4 | 5 |
| 7 | 8 | 9 | 10 | 11 | 12 |
| 14 | 15 | 16 | 17 | 18 | 19 |
| 21 | 22 | 23 | 24 | 25 | 26 |
| 28 | 29 | 30 | | | |