Latest News
Latest News
Dare to read book display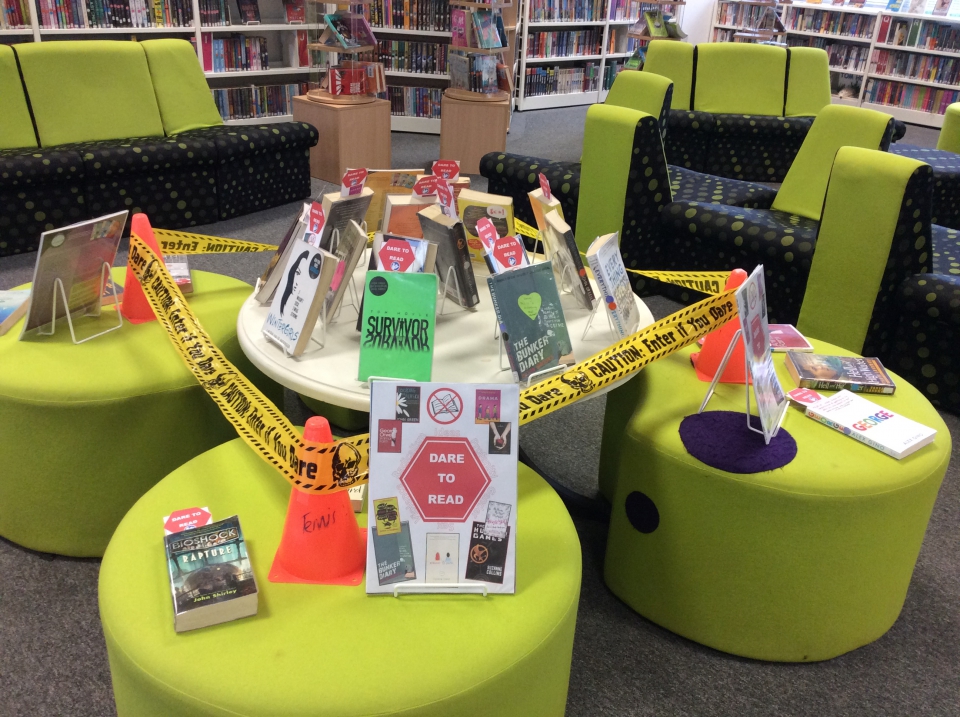 Want a book that will challenge your views? Want a book that will creep you out? Do you want a book that is a bit more daring? Then check out our dare to read display.
We have highlighted loads of our daring books and put them on display just for you. If you don't know what to read next or you want to read something a bit different have a look at the display.
Make reading more your 2018 New Years resolution!
Spotlight books:
Bunker Diary by Kevin Brooks
'It was still dark when I woke up this morning. As soon as my eyes opened I knew where I was. A low-ceilinged rectangular building made entirely of whitewashed concrete. There are six little rooms along the main corridor. There are no windows. No doors. The lift is the only way in or out. What's he going to do to me? What am I going to do?'

George by Alex Gino
'When people look at George, they think they see a boy. But she knows she's not a boy. She knows she's a girl. George thinks she'll have to keep this a secret forever. Then her teacher announces that their class play is going to be Charlotte's Web. George really, really, REALLY wants to play Charlotte. But the teacher says she can't even try out for the part . . . because she's a boy.'

Shivers by Bali Rai
'Meeting Cassie was the best moment of Sam's life. So why has everything fallen apart since? Can he really trust her at all? Sam hates life on the council estate - everyone knows why he and his mum had to move there and they won't let him forget it. When he meets the beautiful and mysterious Cassie he quickly falls head over heels.'
December 2018
| M | T | W | T | F | WE |
| --- | --- | --- | --- | --- | --- |
| | | | | | 1 |
| 3 | 4 | 5 | 6 | 7 | 8 |
| 10 | 11 | 12 | 13 | 14 | 15 |
| 17 | 18 | 19 | 20 | 21 | 22 |
| 24 | 25 | 26 | 27 | 28 | 29 |
| 31 | | | | | |